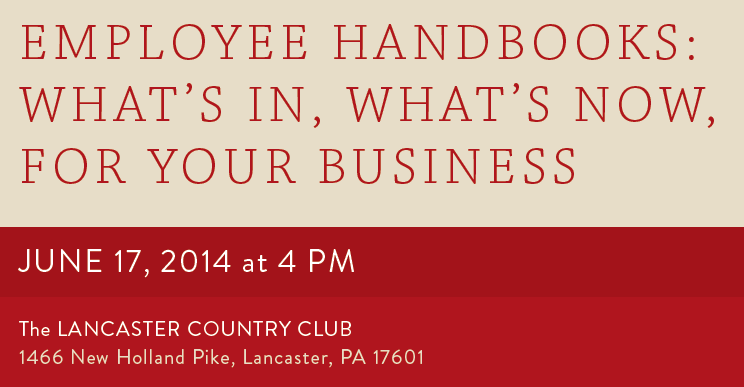 Please join BCGL at the Lancaster County Club on June 17, 2014 at 4:00 p.m. for its second Enterprise Institute session - "Employee Handbooks:  What's In, What's Now, For Your Business."
Creating an employee handbook for your company is a key tool in defining relationships with employees, developing a unique culture, and safeguarding against employee claims. Yet, many stakeholders struggle with devoting the necessary time and resources to this process. Please join BCGL at the Lancaster Country Club on June 17th at 4:00 for cocktails on the porch, the opportunity to network with other businesses, and a lively discussion on this essential communication tool.

Theresa Mongiovi and Angela Sanders of BCGL's Employment & Labor Law Group will lead an interactive and entertaining discussion on integral elements of a handbook and they will offer practical solutions for developing a handbook that is the right fit for your business. Nxtbook Media's Director of Marketing, Marcus Grimm, will share an innovative approach to capitalizing on the unique culture of a business, engaging employees, and using a digital handbook as an interactive internal and external marketing piece.



RSVP by June 10 to Emily Forrey at emilyf@bcgl-law.com or 717-945-5745.