Partners Rory Connaughton and Ted Brubaker were part of the small group instrumental in bringing this prestigious event to Lancaster County and told the story behind the story.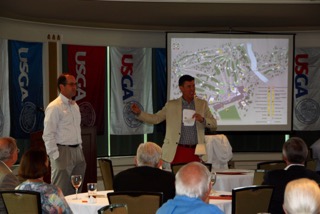 On June 2nd, BCGL presented the Enterprise Institute III, "BCGL & the 2015 U.S. Women's Open: Celebrating Lancaster's Entrepreneurial Spirit" to its clients.

In July 2015, the eyes of the world will be on Lancaster County as it hosts the 70th U.S. Women's Open, the largest, most prestigious tournament in women's golf. 


The 2015 U.S. Women's Open has been embraced by Lancaster County in ways never before seen in the history of the Championship. Ticket sales are ahead of projections, 2,500 volunteers registered within 4-1/2 weeks (another USGA record) and record numbers of local businesses are participating as vendors and service providers. Few realize that planning for the 2015 U.S. Women's Open began in 2007 when a small group came together with the goal of showing this dynamic community to a global audience.